Do you want to create a comfy outdoor living room to relax and entertain guests? With this cozy fire pit table and chairs set (that swivel!), you may end up spending every night on your patio…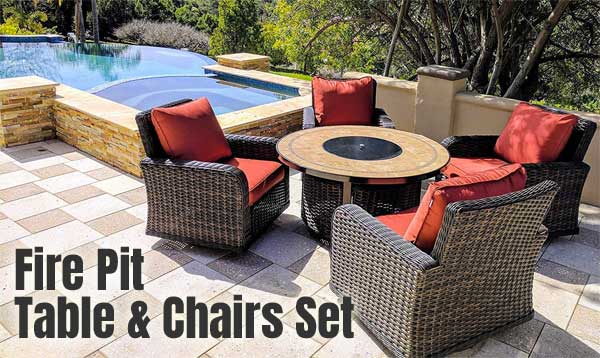 I love this premium set because you get ultra-comfortable chairs. In other words, you won't want to stand up after you sit down in them. Just bring the entire bottle of wine to the table. =)
Note: If the fire table set is out of stock, check out the new Agio Heritage Fire Pit Chat Set with 4 swivel glider chairs.

The set features the same comfortable, cozy feel – perfect for outdoor entertaining. Plus, they have all-weather wicker construction and ultra-durable Sunbrella fabric cushions.
For example, they have deep seats, they rock and swivel AND they include thick, comfortable cushions. Ha! I could use a set of these chair inside too!

In addition, the chairs have super durable frame and cushions (read more below). Therefore, you won't have to replace them or buy new cushions after a few years.
I think this patio furniture is a good deal for the money. Not to mention, it's low maintenance. It really holds it own with minimal care.
And speaking of easy care, a 20-lb propane gas tank fits discreetly underneath the table. Therefore, you don't have to see it or have an ugly looking hose extending from the table.

Plus, the table comes with electronic ignition, which allows you to light your fire with the push of a button. Talk about easy.
Patio Set Includes:
Fire Pit Table
Propane Gas Burner
Electronic Ignition
4 Rocking Chairs
8 Removable Cushions
Note: The package does not include a propane tank or battery for the ignition (1 AA battery is needed), which is standard.

Also, the table does not come with lava rock for the fire bowl, but this means you get to choose whichever rock or fire glass you like!
How Durable are the Swiveling Patio Chairs?

First of all, the frame of these chairs is constructed of powder-coated steel. Therefore, it has lots of strength and withstands rust at the same time.
Second, the faux wicker body of these rocking chairs is made from heavy duty plastic resin. Compared to real wicker material this will not splinter or warp. Plus, resin resists water damage and fading from the sun.
Note: The "woven" resin furniture has a rich brown finish to make it appear more like real wicker. However, it is designed to last, even when exposed to all types of weather. (Talk about low maintenance!)
Third, the synthetic Olefin cushions have high durability as well, and they hold their color. You won't have to worry about mildew, fading, tearing or stains.
In addition, you can remove the cushions and bring them indoors in the off season. Furthermore, detachable cushions make it easy to keep your furniture from getting soaked in heavy rain.
Note: Some customers use the Duck 96″ round patio furniture cover for extra protection. This can be an inexpensive way to add extra protection to your patio set if you don't use it for several months at a time.
How Does this Fire Pit Table Set Compare?
As I mentioned above, this deluxe set offers a good value for the price. That said, it does cost about $2300, and there are cheaper options.
For example, you can get the GDF Studio fire pit table with 4 club chairs for about $1200. However, it comes with a few trade-offs, including stationary chairs that don't swivel and a smaller tabletop surface.

Or, if you prefer having a sofa instead with an elongated fire pit, the Crested Bay Chat Set offers an affordable option. (Actually, I consider this a deluxe set as well. In other words, a great bargain!)
Alternatively, if you like the round shape fire pit and tiled top, you could get just the fire pit table. Forgo the chairs and use your own. The Verona Fire Pit Table has a unique mosaic design, plus it includes fire glass.
Specs for Fire Pit Table and Chairs Set:
Table Dimensions: 50″ Diameter x 24″ Tall
Chair Dimensions: 34″ Wide x 34″ Tall x 33″ Deep
Table Base Material: Steel Frame, Resin Wicker Body
Tabletop: Porcelain Stone Tile
Chair Material: Steel Frame, Resin Wicker Body
Chair Color: Brown Wicker, Red Cushions
Cushions: Olefin Fabric
Heater Output: 30,000 BTU's
Weight: 265 lbs
NO Assembly Required
Manufacturer: Kinger Home
Phone: 818-477-0811

Note: A good time to get patio furniture on sale or clearance is starting in August. However, popular sets like these tend to sell out early. Therefore, if you see that your set has a limited supply, you may not want to wait that long. It may sell out.