Do you want an affordable (yet stylish) gas fire pit that you can also use as an outdoor table? You may like the Lari Gas Fire Table, which costs under $400.

I think this compact little unit offers a lot of value for the low price tag. Let's go over some of the features…
The Lari has a Compact, Versatile Size for an Outdoor Table
The Lari gas fire table is smaller that many other models. This can work as an advantage or disadvantage, depending on the size of your patio. Smaller tables typically have more versatility. However, they provide a smaller table surface.
This Fire Table Produces a Lot Of Warmth
Although this fire pit table has a more compact size, it doe not lack in heat output. I'd say the average BTU's on fire pit tables runs about 40,000, and the Lari gives you about 25% more BTU's.
Table Comes with Protective Cover
Of course, this outdoor fire pit has a weather-resistant design. However, it also comes with a PVC fabric cover so that you can protect it from dirt and debris when you're not using it.
I think this is a nice accessory to have, especially if you live in a colder climate where you don't spend much time outdoors in the winter.
What are the Advantages of the Envirostone Tabletop?
Envirostone is constructed of resin and stone and has heat resistant qualities. This composite material has high durability, yet is lighter in weight than natural stone.

The lighter weight makes the table easier to assemble and move. Not to mention, it costs less to ship. So, manufacturers can pass on this savings to their customers. =)
Just like natural rock, it can withstand extreme temperatures, which makes it an ideal material to use in fire pit tables. In addition, it actually resembles real stone. Therefore, you can get the high-end look and toughness of natural rock without paying the high price.

This Fire Pit Table has a Fast Ignition System
This gas fire pit table runs off a 20-lb propane tank. The tank hides discreetly underneath the table, so you don't even notice it. Plus, it doesn't take up extra space on your patio.
Also, the table comes equipped with a convenient electronic ignition system. So, with the push of a button, you can light the fire pit. No searching for matches or struggling to get your fire lit. This gadget makes it easy!
The knob shown in the picture below turns on the gas and also adjusts the flame. You can use maximum gas output to increase the heat of your fire. Alternatively, you can reduce the flame size and extend the life of your propane tank.

You connect the tank to the fire bowl using the included hose. When you aren't using your fire pit, close the tank valve to prevent any possible leaking.
Can You Use Fire Glass Instead? Yes!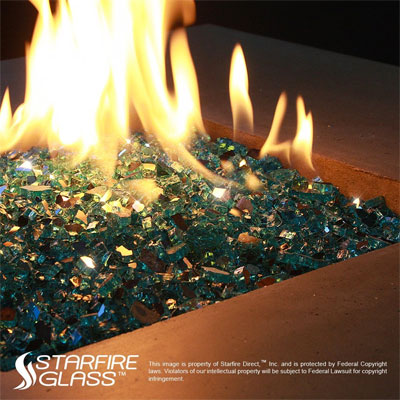 Speaking of lava rock, you CAN switch it out for fire glass if you want. Some people prefer the clear look of glass or want to add some color to the fire bowl.
In addition, the reflective qualities of the glass enable it to absorb and therefore disperse more heat.
Fire glass comes in variety of different colors, and you'll need about 20 lbs (or two 10 lb bags) to fill the fire bowl.
Alternatively, you could buy one 10-lb bag and mix the lava and glass together for a unique look.
Specs for Lari Gas Fire Table:

Size: 30″ Long x 30″ Wide x 24″ Tall
Fire Bowl Dimensions: 14.5″ Square
Weight: 43 lbs
Material: Steel Base, Envirostone Top
Color: Brushed Bronze Brown
Finish: Antique
Heat Output: 50,000 BTU's
Includes Lava Rock, Fire Bowl Cover & Fabric Table Cover
Propane Tank Not Included
Model #: 68487A
Assembly Required
Manufacturer:

Bond Manufacturing

1-866-771-BOND (2663)
Lara Fire Pit Table Assembly Instructions:


Although this unit does require assembly, the job is fairly simple and fast.
In fact, the user manual assembly guide only consists of 2 pages. And, it only has 7 steps – the first of which is "unpack the box".
After putting together the furniture and attaching the sides to the tabletop, you simply insert the ignition battery, add the lava rock and hook up the propane tank. Nothing too high tech here. =)