Are you looking for a functional (AND stylish) outdoor dining table that also has a built-in fire pit? Fire tables not only provide warmth, but a unique ambiance that turns outdoor dining into an experience.

I originally bought my fire pit table to hang out with friends. However, now I use it to enjoy my morning coffee, watch the sunset with a cocktail and even work on my laptop as well.
Plus, entertaining friends is much more fun around a fire than just a regular patio table. I even use it year-round. I definitely get a lot of use out of it, which has made it a great investment for me.
But Which Fire Pit Table is Right for You?
When choosing a patio dining table with a fire pit, there are a few key features that you want to consider.
1. Size and Shape of Your Fire Table:
First of all, what size table do you want? In other words, how many people do you want to seat around the fire? Rectangular tables typically fit more people than square shapes, however, circular fire pits often can accommodate more guests without taking up more space.

And don't overlook the tabletop area. Some tables have a larger fire bowl with a smaller surface for placing drinks and food. If you have side tables, you may prefer a larger fire.
On the other hand, average-size fire bowls with higher BTU outputs can produce a good amount of heat while still providing adequate dining space.
2. BTU Rating & Heat Output:
And speaking of BTU output, if you want more heat from your flames, look for a higher BTU rating on your fire table. For example, most average tables run between 30,000 and 50,000 BTUs, but you can get fire pit dining tables with 80,000 BTUs.
Note: Keep in mind that higher BTUs means more gas usage, meaning a higher cost per hour. That said, you can usually adjust the flame setting to use less gas when the temperature is warmer. Therefore, you can control how much gas you use and lower your cost.
Although higher-heat fire tables can cost more in gas, they allow you use them more often through the year. Therefore, the cost is a small price to pay.
Note: By the way, fire glass tends to generate more heat than lava rock. Therefore, you may want to choose a fire table that comes with glass beads or buy fire glass separately and switch out the lava for glass.
3. Comfortable Outdoor Dining Tables with Fire Pits:
Third, look at the seating style and comfort that the tables provides. For instance, some tables have a coffee-table height, which work great with lower-height chairs or Adirondacks with a more relaxed feel. Imagine leaning back and kicking your feet up.
Alternatively, you can get bar-height fire pit tables or basic dining height which feel more like traditional dining. For some people, this can feel more comfortable, especially if you use the space exclusively for dining. In addition, bar-height stools often come with footrests.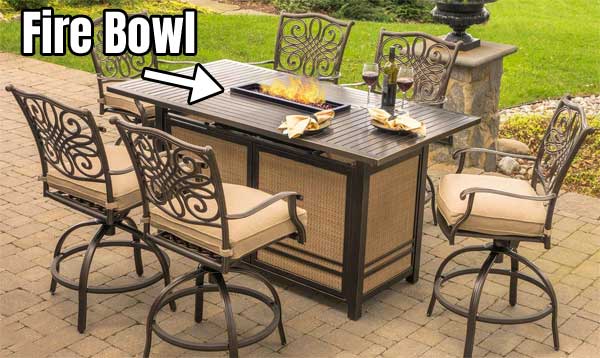 No matter what type of table you choose, you can find patio chairs that swivel, rock or have plush cushions (or all of the above). Actually, I think the chairs can make the ultimate difference when it comes to fireside comfort.
4. Low Maintenance Fire Pit Tables:
What's nice about gas fire pits is that they're typically really low maintenance and easy to operate. They don't produce a bunch of smoke or ash, and you can turn them on in seconds with push-button ignition.

In addition, most tables are constructed of stone, steel, aluminum or concrete-like material with weather well in the outdoors. They don't require lots of cleaning or special treatments to stay looking good.
That said, some fire pit table come with lids or covers to keep leaves and debris from getting into the fire bowl. This option is well-worth the cost, in my opinion. And if the table you like doesn't come with a cover, you can usually buy one separately that fits.
Gas Fire Pit Dining Tables Versus Wood Burning Fire Pits:

Compared to wood fire pits, gas fire tables have several advantages. As we mentioned above, they burn cleaner, are effortless to ignite and require less maintenance.
In addition, you can set them up on a deck or patio. Plus you can move them around, depending on the weather, time of year, etc.. (This applies to propane gas fire tables.)
On the flip side, fire pit tables generally cost more than building your own wood burning fire pit with concrete blocks. Gas fires also don't give you that authentic campfire experience with crackling flames or produce as much heat. Check out the pros and cons of each in the table below.
| Fire Pit Tables | Regular Patio Tables |
| --- | --- |
| Pros: | Pros: |
| – Provides warmth and ambiance | – Less expensive |
| – Adjustable flame heights and BTU ratings | – Easier to maintain |
| – Convenient features such as storage and table covers | – No smoke or ash |
| | Cons: |
| Cons: | – Requires additional heating options (e.g. heaters) |
| – Potential for smoke and ash | – Lack warmth and ambiance |
| – Requires careful maintenance and upkeep | |

As you can see, when it comes to choosing a fire pit dining table, there's a lot to take into account. However, if you mainly want to save money, I've found a dining height fire table with 50,000 BTUs that can seat 6 people.
It doesn't have a whole lot of style, and it does require assembly. However, it's functional, durable and you can move it around as needed (it conveniently weighs less than 75 lbs).
Plus, it gives you a good amount of dining space, and you can hook it up to a regular 20-lb propane gas tank. And, it comes with a fire bowl lid, a protective cover and glass fire beads.
And if you need comfortable, affordable, low-maintenance chairs, check out these highback swivel rockers.