There's something about a bar-height fire pit table that says, "A fun night out!". It's not an average, ordinary dining room or kitchen table that you sit at every night. It's not a picnic bench or even a patio table with an umbrella over it.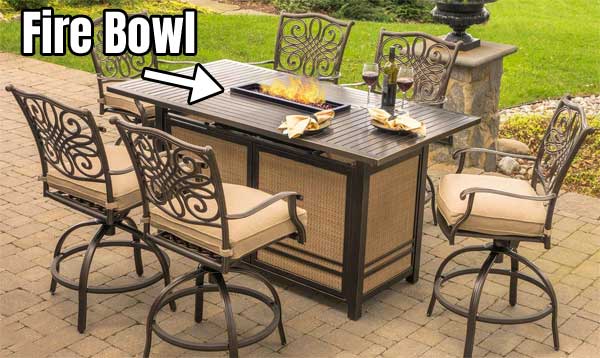 A bar-height table is much more special, especially if it has a fire pit in the center. No, there will be nothing ordinary about this evening!
In fact, I have yet to see another bar height fire pit table like the Agio Davenport 5-Piece Set (discontinued model). This factor makes it even more unique. It's like having a fun night out on the town with friends – without having to leave the house.

It's like having your own cocktail bar in the backyard…

As you have probably already guessed, this fire pit table-and-chair-set is not cheap. You can save half of your money by getting the contemporary Gramercy Home fire pit table, and it comes with 4 chairs as well.
How I Got Around My Price Issue with this Bar Height Fire Pit Table
However, there's something about that bar-height feature that I really like. And since I'm someone who always wants to make sure I'm getting a good value for my money, I did a little math.
I started with the sale price of this patio set: about $2,500.

I figure that this pretty much equals 25 evenings out at a nice restaurant or cocktails with friends. (25 x $100 = $2,2500). Now this outdoor dining set is sounding much more affordable.
I also took into account that in addition to all the money I'd save on eating out, this bar-height table offered several other advantages.
The dining furniture upgrades the look of the patio with minimal effort. You an basically create an outdoor room with this one set of furniture. I'd add an outdoor rug underneath it to make it feel more cozy, and that would be it. No more design work (or cost) necessary.
I can enjoy watching the flickering flames whether I have guests over or not. No entertaining required! I can see myself relaxing beside the fire every evening with a glass of cabernet. I've never been able to get myself to sit still and meditate, but this fire pit action sure qualifies at getting me relaxed.
Specs for the Agio Davenport Bar Height Fire Pit Table Set:

Dimensions:
Bar Stool 33″ long x 19″ wide x 42″ tall
Fire Pit Table 72″ long x 40″ wide x 38″ tall
Materials:
Rust-free aluminum frames
All-weather wicker on chairs
Sunbrella fabric cushions (fade & weather-resistant)
Fire Glass: amber luster glass beads
Note: Fire pit comes with cover. Yeah!