Do you want to design a fun and unique dining experience on your deck or patio? This bar height fire table set (also available with red cushions) provides plenty of tabletop surface plus the ambiance of flickering flames…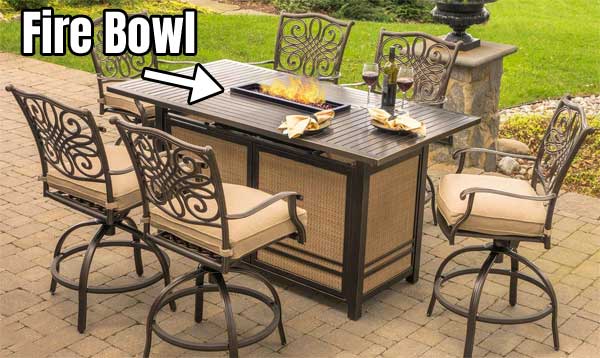 Update:If the Hanover table is out of stock, Sunvue Patio has a slightly larger table set with 8 chairs (vs 6) and 2 fire bowls (instead of 1).

The comfortable chairs have armrests, the seats swivel and have foot rests. Plus, you get more "fire" on your table. In fact, you might even like it better.
Pros and Cons of a Smaller Fire Bowl:
Compared to other fire pit tables, the Hanover Traditions features a slim rectangular burner in the center. Therefore, the fire bowl doesn't take away much table space.
In other words, this bar-height table makes the ideal spot for eating food. Plus, the relaxing atmosphere created by the fire make it even better for entertaining.
On the other hand, a smaller fire bowl translates to less heat output. So, don't expect it to keep you warm on a chilly night. (For instance, this unit produces 30,000 BTU's versus the higher 40,000 or 50,000 of hotter fire pits.)
Note: Having said that, lower BTU's means that your propane gas tank can last longer. In other words, you can save money over time. =)
Get Extra Storage Space Underneath the Fire Pit Table:
Another key feature of this outdoor bar table that you might appreciate is the ample storage space. For example, you can keep an ice bucket, extra wine bottles or dessert under the table while you dine.

Alternatively, you can turn the shelves into additional outdoor storage space even when the table is not in use. (Most fire pits sit lower to the ground and, as a result, can't store any items beside the propane tank.)
And speaking of the gas tank, the table discreetly holds the tank and control panel under the fire bowl, hidden behind the cabinet doors. This gives your dining set a sleek, clean look.
More Comfortable Counter-Height Table Design:
Some people prefer dining tables that sit higher off the ground. For one, chairs can be easier to get in and out of. Second, the sophisticated styling makes it feel like you're eating out at a restaurant.

In addition, the 360-degree swiveling bar chairs and built-in foot rails will make you want to eat out in your backyard all the time. Not to mention, the extra-thick (2.5″) seat cushions provide even more comfort.
Specs for the 7-Piece Bar Height Fire Table Set:
Includes Fire Pit Table + 6 Chairs with Cushions
Tabletop Dimensions: 68″ Long x 36″ Wide
Countertop Height: 3 Feet Tall
Heat Output: 30,000 BTU's
Material: Premium Cast Aluminum Frames
Frame Finish: Protective Bronze Coating
Cushion Color: Tan
Cushion Material: UV Resistant, Quick-Dry
Includes Lava Rock
Assembly Required
Model #: TRAD7PCFPBR
Brand: Hanover Products
Phone: 877-397-5144
Is this Dining Set with Fire Pit Worth the Money?
This fire pit table set does cost more than a standard stand-alone fire pit. However, I think you get a good value for the money.
In essence, you're getting a complete 6-person dining table, a fire pit and enclosed outdoor storage space. Plus, you can even turn this table into a cocktail bar at backyard parties. Talk about a versatile piece of furniture!

I mean, compare this bar height fire table set to something like the Livingston Fire Pit with Club Chairs.
The set may cost less, but you don't get a bar height table or a table tabletop surface. Not to mention, you get 2 less chairs that don't swivel.