A fire pit table set outfits your deck or patio with a place to eat, entertain and relax. Instead of buying an outdoor living room set or a dining table and chairs, you can include a fire pit table and get much more use and enjoyment out of your investment. Here are my Top 5 Picks:
1. Gramercy Home 5-Piece Conversation Set with Fire Pit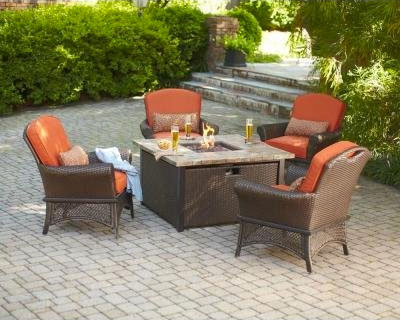 I really like this fire pit set because the chairs have several comfort-added features but the price is still affordable. For example, the oversized chairs include an extra lumbar cushion.
Unlike similar models, the woven wicker has a fully finished design on the sides and back, giving the chairs an ungraded, more sophisticated look.
The table base features a matching wicker exterior which conveniently hides the propane gas tank. The tabletop has a central firebowl which you can cover when not in use. This adds additional surface area to the table.
Table Dimensions: 45″ Long x 45″ Wide
2. Bellamar 6-Piece Fire-Conversation Set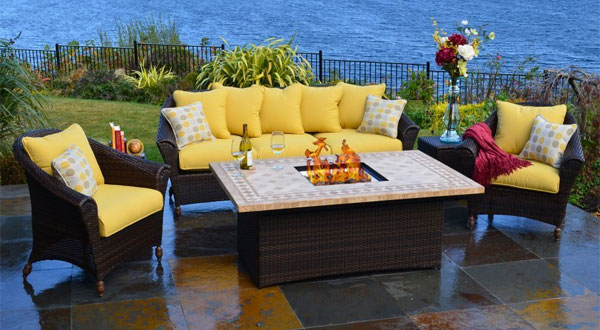 Do you want to create more of a living room feel in your backyard? The Bellamar has the perfect solution. It comes with 1 extra-large sofa, 2 deep-seat chairs, 2 glass-top end tables and a travertine marble fire pit table.
Add a few accessories (ie a lamp, some books, a throw blanket or some potted plants), and you can really make your deck or patio feel like a living room.
This furniture set is made with all-weather wicker, so it will last a long time and look great outdoors year-round. The cushion fabric resists fading, and the multi-ply foam cushions hold their shape better.
In short, your outdoor living room looks good and adds comfort for the long term. And this set requires with very little maintenance.
As we'd expect, this model has a higher price tag. However, the instant transformation of a ordinary deck into a luxurious outdoor living room with fireplace is unquestionably worth it.
Table Dimensions: 60″ Long x 40″ Wide x 23.5″ High
3. Darlee Elisabeth 6-person Cast Aluminum Fire Pit Dining Set


This round fire pit table caught my eye because it easily seats more people while taking up less space on the patio.
You can also add an optional ice bucket insert to the table center, making it more versatile depending on your entertaining needs.
We do give up some of the lounge style compared to other models, but I think this set is better designed for family dining. There are pros and cons to either version.
I like the fact that the furniture is constructed of cast aluminum rather than wrought iron. It is lighter in weight and still rust-resistant, so it's low maintenance.
Table Dimensions: 60″ Diameter X 29″ High
4. Moonlight Round Gas Firepit Table


This unique, super-stylish fire pit table takes the focal point of any patio. As if a crackling fire wasn't enough, now you've got a stunning stained-glass tabletop that draws you into the backyard. (The propane tank is totally hidden!)
A cool feature that the Moonlight set has is sliding rocking chairs with thick 8-inch seat cushions. This is a not-so-easy style to find in affordable outdoor dining sets but is definitely worth it. Although it might be harder to get up from your seat…
Note: Due to it's smaller size, it may be better for enjoying after-dinner drinks or a morning coffee. But that doesn't mean you can't eat food. =)
Table Dimensions: 48″ Diameter x 24″ High
5. Estrada 7-Piece Wicker Fire Dining Set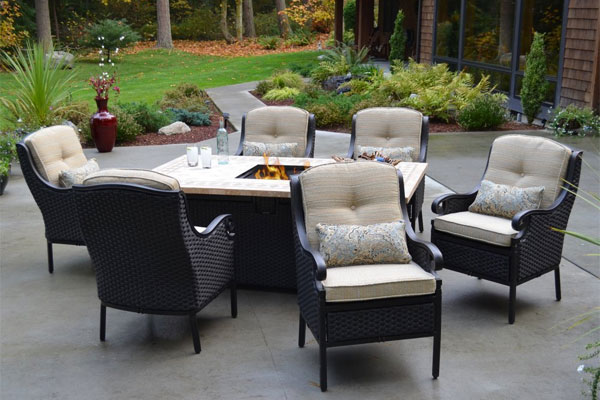 The Estrada has a similar travertine marble tabletop to the Bellamar. However, it has more of a formal look and 6 separate armchairs with Geobella fabric cushions.
I like the fact that the table has a rectangular shape rather than square. This provides additional tabletop space and room for more guests without taking up double the space.
Table Dimensions: 74″ Long x 42″ Wide x 29″ High