I've always enjoyed sitting around a campfire or relaxing by the big fire pit at my favorite restaurant. However, I never considered having a fire pit and swivel chairs as a dining table set at home until a friend of mine got one. That changed everything.

Not only could I enjoy a crackling fire, but I could easily eat, drink and entertain around it. Once I got my own, it quickly become my favorite table in the house.
(This may have something to do with the fact that I can lean back in my adirondack chair and put my feet up on the fire it surround without the slightest bit of guilt.)
The longer I own my fire pit table, the more reasons I find to use it. I thought I'd share some of these ideas with you, since I am pretty sure you will have the same affection for your fire pit that I do towards mine.
9 Ways to Use a Fire Pit Dining Table
1. Happy Hour Cocktails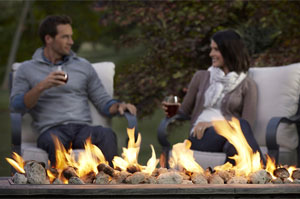 A fire pit is a comfortable, easy-going place for guests to congregate as the evening is getting started. When people are relaxed, it becomes much easier for interesting conversations to get started.
On the other hand, if you are home alone or with your spouse, cocktails along with a cracking fire can be the perfect way to relax and unwind after a stressful day at the office. Go ahead, put your feet up. I do!
2. Sunday Brunch

Why make the effort to go out to a restaurant on Sunday morning when you can simply walk out to your patio and enjoy the warmth of the fire? Whether you are planning a big brunch buffet or you just want to enjoy bacon and eggs, a warm relaxing setting is a great way to wake up.
3. After Dinner Drinks
Yes, it may be easier and more convenient to serve dinner inside, especially if you are entertaining a large group of people. However, don't forget the fire pit table for after dinner drinks.
The conversation will be much more interesting than on the sofa in front of the TV. Plus, you can just listen to the cracking fire if you don't feel like talking. Most fire pit dining tables are small enough that they are easy to get cozy around.
4. Saturday Afternoon BBQ
No, I'm not talking about grilling your food at the table. I'm saying that fire pit dining is much more entertaining than a picnic bench (except maybe the ones you can carve your name in).
5. Coffee Chat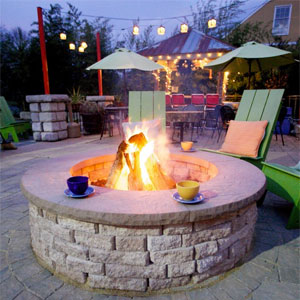 Have you ever thought about inviting friends or neighbors over for coffee… but wondered how to make it more appealing or different? Now you have your solution.
Sipping a steaming cup of coffee outdoors next to a warm fire with your feet up on the table is way better than waiting in lane and trying to carry on a conversation in a crowded noisy coffee shop.
Propane gas fire bowls turn on with a click. There's no need to prepare kindling, wait for it to heat up, etc.. You've got fire on demand baby!
6. Fondue Night

If you have never hosted "Fondue Night", you need to run down and grab yourself a $35 fondue set and have one at the pit. This is especially the best idea if you don't like to cook. This is snacking at its best.
I really like fondue dinners because they are a much more casual. They are also fun and different. Guests can pick and choose what they want to eat, and meal prep is quick and easy. There are so many good reasons to eat fondue with friends!
7. Wine Tasting
A glass of wine seems to go perfectly with a fire. Therefore, I think wine tasting around the fire pit makes for a perfect evening with friends. Having the table surround simply makes it the no-brainer location because you have plenty of space for wine bottles, glasses and snacks.
8. Family Campout with S'mores

Now there's no need to pack up and go on a camping trip to enjoy s'mores outdoors on a starry night. The fire pit table works perfectly for this fun family activity (although you'll want to be a little more careful about making a mess).
The surrounding tabletop conveniently can hold all cooking supplies, plus plates, napkins and even cups of hot cocoa. Two-prong skewers also are key to keeping marshmallows securely on the stick!
9. Ordinary Dinners Turned Extraordinary

These days, we're seeing less family sit-down dinners. People have busy schedules and often turn to drive-through eating, take out or even just snacking on the road.
I think family dinnertime is more for than just eating. It helps bring people closer, establish better communication and stronger family bonds.
As you've seen so far, fire pit tables are really good at turning ordinary meals into special events that people look forward to. Make a habit of choosing fire pit dining once a week, and bring your family closer… without a lot of effort.