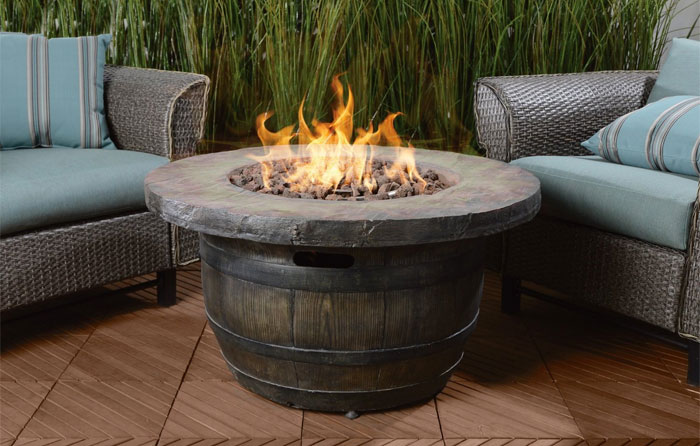 There are lots of cool wine barrel furniture and home decor items on the market, but I hadn't seen a wine barrel fire pit table until recently. You get the best of all worlds: style, character, dining space and heat.
Pro: Heat!
And by heat, I mean heat. The fire bowl puts out 50,000 BTU's, while many other models put out about 40,000 BTU's. To give you a better idea of how much heat that generates, 40,000 BTU units can heat about 150 square feet.
Con: High Propane Usage
I know, I just said the high BTU's was a "pro". However, the higher heat output can eat up more propane gas per hour. Just keep this in mind when you turn on the fire. If you don't need as much heat, set the gas to produces a lower flame level.
Pro: Style
Let's not forget about appearance. This fire pit table definitely has style! Its unique look, with a slate tabletop and wood barrel-style base is a guaranteed conversation starter and gets people talking. It looks like a piece you had custom designed or picked up at a winery.
Con: Table Space
Seriously, there's not much tabletop space here. Forget about inviting all your friends to dine around this table. Maybe a friend or two is a better idea.
That said, you might not want to set your food by such a hot fire!
Pro: Price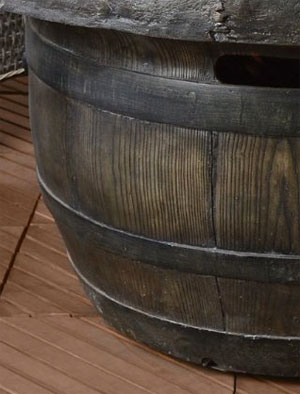 The "Vineyard" propane fire pit table costs about $500, which I think is a good price (especially when you compare it to the Reserve Fire Pit Table priced at $4499!).
The price of Vineyard is even comparable to other generic-looking models that don't have that one-of-a-kind look. I was actually surprised when I first saw the price. I thought it was a mistake.
Even Wayfair sells a wine barrel fire pit (without the tabletop) for over $1,200!
Fire Pit Table Specs:
Approximate dimensions: 35″ diameter x 18″ tall
Package includes table, gas hose and external tank holder