Do you want a rustic gas fire pit table that looks like it's made from reclaimed wood? This unique coffee table with fire pit looks like a vintage piece of outdoor furniture, yet it's actually faux wood!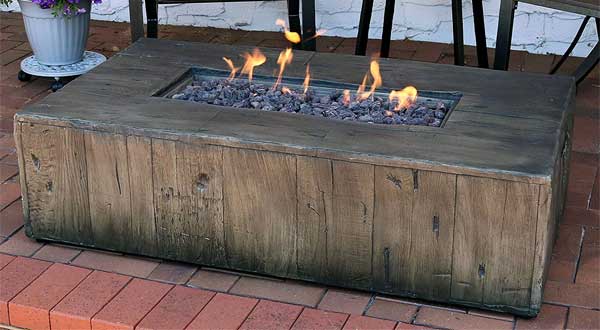 Why I Like this Faux Wood Fire Pit Table:
In fact, the textured wood sides and top are constructed of fiberglass reinforced concrete. Therefore, this table stands up to weather and heat exceptionally well.

And because this fire pit looks like an authentic weathered wood table, it looks attractive even when not lit. In other words, it can enhance the look of your backyard op top of providing heat and a spot to dine outdoors.
Speaking of heat, this rustic fire pit table puts out a whopping 60,000 BTUs of heat. In comparison, most average fire bowls only have 30,000-40,000 BTUs.
As a result, you can keep your friends warmer without having to get a extra heat lamp. Alternatively, you can adjust the flame lower to minimize gas usage and prolong the life of your propane tank. =)
And speaking of friends, rectangular-shaped fire pits can accommodate 6 people. Most square tables can only fit 4 people comfortably, so this model works better for larger groups.
Check out the brief video clip below. See how real the wood looks and how the flames look, even in bright daylight.
Low Maintenance, Easy to Assemble Gas Fire Pit:
This gas fire pit table is simple to assemble. Plus, the corners include adjustable feet so you can easily keep your table level on an uneven patio.
In addition, the exterior requires virtually no maintenance or upkeep. That said, the unit does come with a protected weather-proof cover that you can use when the table is not in use.

Note: With the weathered wood look of the tabletop, you may not even want to cover your table (and you don't have to). However, I've found that covers work well at keeping leaves out of the lava rock.
Lastly, the electronic control panel and ignition makes it effortless to light your fire pit. Not to mention, you can control the flame size with the twist of a knob.
What You May Not Like About this Rustic Gas Fire Pit Table:

This coffee-table style fire pit sits lower to the ground. Therefore, it can't fit a propane tank discreetly underneath.
That said, the package does include a 9-foot gas hose. So, you may be able to hide the tank behind a large flower pot or chair.
Alternatively, you can get a $60 propane tank cover. I like this idea best because the cover can double as an an extra side table for drinks, food, an outdoor lamp, etc.. Who doesn't need extra table space, right?
Specs for Rustic Faux Wood Fire Pit Table:
Dimensions: 48″ Long x 26.5″ Wide x 13″ Tall
Fire Bowl: 22.5″ Long x 10″ Wide x 3″ Deep
Weight: 76 lbs
Heat Output: 60,000 BTU's
Material: Fiberglass Reinforced Concrete
Comes with 9-Foot Long Gas Hose with Regulator
Includes Lava Rocks, Ignition Batteries & Storage Cover
Propane Tank Sits Outside Table (tank not included)
Assembly Required (easy instructions)
Model #: WAR-434
Phone: 888-881-4668