Do you like the look of rustic log furniture? Then you'll dig this realistic-looking tree stump fire pit table. It actually runs off of propane gas!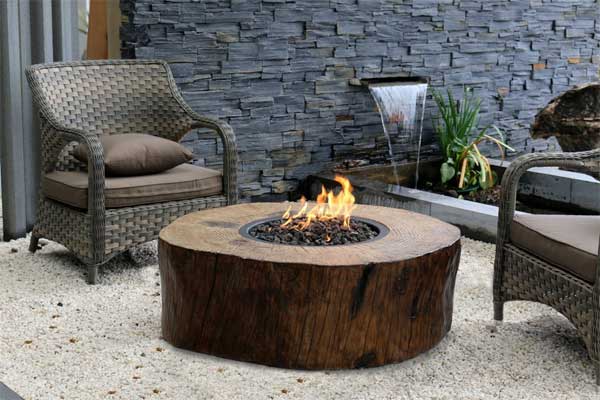 Why this Tree Stump Fire Pit is So Cool…
Not only do you get an authentic-looking, one-of-a-kind patio table, but you get a heater at the same time. And this smaller-sized fire pit actually puts out a substantial amount of heat at 45,000 BTU's.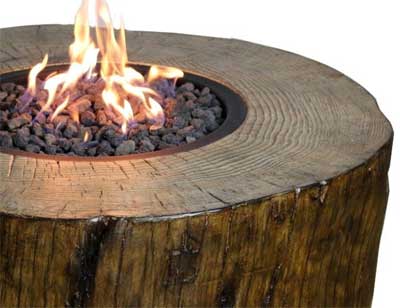 Plus, the black lava rock that comes with this package adds to the rustic look. I mean, from a distance, it looks like it could be charred wood from the stump.
Get ready for the endless number of ooohs and aaahs from guests. This unique fire pit table is really impressive. (Even when the fire is not lit.)
Besides looks and heat, this tree stump table provides even more function. For example, use it as a convenient foot rest or as a spot to place drinks or snacks.
And, the electronic ignition makes this fire pit conveniently easy to turn on and off. Just press the igniter and turn the gas knob.
The Problem with this Fire Pit Table… and an Easy Solution

The issue that I have with this stump fire pit table is that the propane tank can't fit underneath the table. Therefore, it has to sit outside and is fully exposed. Not so natural-looking, right?
Well, I found a simple solution. Just get a matching stump propane tank cover. Brilliant, I know.
Of course, this smaller side table costs an extra $250. However, it does hide the gas tank AND provide an additional table. And who doesn't need extra table space for drinks, especially when it's a stump?
That said, you still have a hose that reaches from the base of fire pit to the stump cover. If you want to conceal it, some people lay an outdoor carpet over it. But honestly, since it lays on the ground, you may not even really notice it if you have chairs surrounding the fire pit table.
Note: I recently came across another stump fire table that will save you about $400. It's about the same diameter, about 10 inches taller and comes with a fire bowl cover. So, you can turn your fire pit into an outdoor table too.
Specs for the Stump Fire Pit Table:
Fire Table Dimensions: 41″ Long x 37″ Wide x 14.5″ Tall
Table Weight: 124 lbs
Fire Pit Material: Cast Eco-Stone
Fire Bowl Material: Stainless Steel
Heat Output: 45,000 BTUs
Electronic Ignition
Includes Auto Shut-Off Safety Feature
Model #: OFE101-LP
Lava Rock Included for Fire Bowl
Manufacturer: Ocean Rock
In short, this tree stump fire pit costs more than other fire tables. However, it makes a distinct and memorable statement that will last for years to come. And most other gas fire pits just can't compete with its rugged style.